When I went to Golden Gate Park again, I got to know the drummers better.  Some of them had carved out a few precious hours from work and rent and debt to come and be in this circle.  Some had traveled far, planning for months to come to this historic place, to be a part of this magic sound that meant so much.  Some were homeless and slept outside in the park but still carted around a heavy, expensive drum, their most valued possession.  Some just banged bottles or cans together or beat on white plastic buckets to join the rhythm.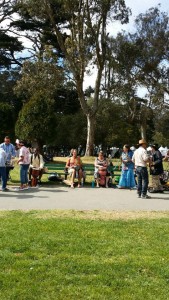 Rich was the first to make me feel welcome, passing me some of nature's finest as I hovered on the edge of the circle.  He had his special spot, on the left end of the bench that people would vacate for him when he wanted to sit there.  He would set up with a folded blanket to sit on and his backpack with his lunch under the bench.  His drum was big and heavy, which was a reason why he didn't want to park far away.  He told her that he came really early, was the first one to arrive, so he could park in the close little parking lot.  His drum made a good, strong, steady sound, loud enough to bring the drums back to center if they were wandering off the beat.  He said he'd been coming out here for fifty years.
Adrian was the only woman drummer.  Looking like a Celtic queen, bright fuchia flowers and the rhinestone tiara on her head, she played two drums painted with the universe.  She played drums all day with great stamina and power, like she had on almost every Saturday and Sunday for the past year.  Before that she used to come here all the way back to the Summer of Love.  There was something about this place and this music that was addictive, that the soul had to have once it had tasted it.
Her regal appearance was perhaps suggested by the tiara.  She also had her own special spot to sit on the bench, available to her whenever she arrived.  When she left in the evening was when most of the drummers left.  She and Rich were the center, providing a kind of unspoken order in an arena where people didn't want leaders.  They helped settle disputes, and set a steady beat.
I just assumed that I could play with the drummers, made myself right at home in their circle with my tambourine.  Pacifists have an open attitude toward others and they live intuitively.  The conviction that things happen for a reason is part of an informal belief system.  For me, to have arrived here at Hippie Hill, to be a part of this circle, making music with these people, was a supreme experience.