Her big straw hat with purple flowers and rainbow ribbons
made her easier to spot amid the surging crowds.
"Raspberry shortbread, chocolate, pecan or oatmeal!" she called to the vendors,
selling them cookies "home-made, hand-crafted, and guaranteed insurance-free."
She had no credentials of any kind, no sanction from any authority, local, state or federal.
Without licensing, permits or insurance, she did as cookie ladies had always done.
The hand-wrapped cookies were crooked, some overcooked, some bigger or smaller.
They were not sealed in bubblewrap and had no list of ingredients.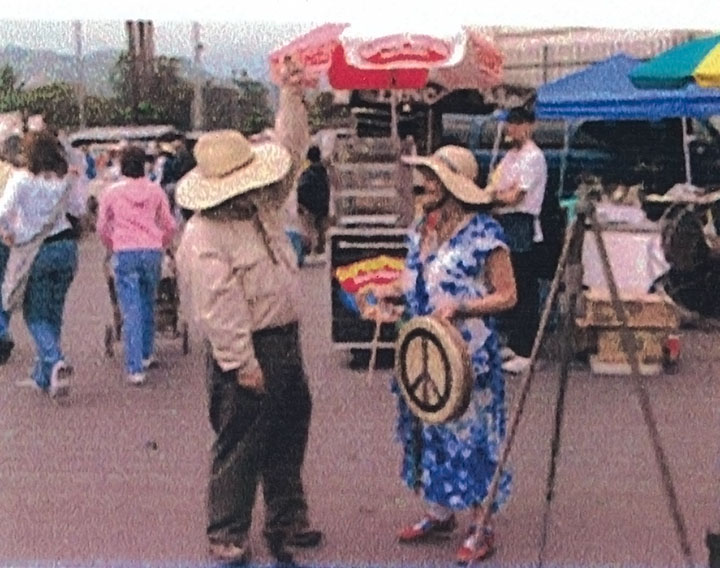 You got to pick the cookie that was right for you, which made for a lot of conversation.
She looked for the biggest or softest cookie, or the broken one she could give away.
If the cookie seemed too small, an extra one was thrown in.
She said that giving them away was the best deal for her, a buck for a friend.
They gave her silky skirts with lace, tie-dyed in Heaven blue,
a lapis necklace and a shirt with rhinestones you could see across the lot.
Peace signs and crosses adorned her lapels, American flags and hearts.
In the wide-open world of the swap meet, the nonconformist finds a home.
Vendors invited her into their booths, asked about her family and she about theirs.
They let her read to them a battered manuscript she carried in her cart
of poetry she wrote about governments and religions.
She told them it was "guaranteed guilt-free and dogma-free,"
though some "should not be read before bedtime or on an empty stomach."
She looked like other cookie ladies but didn't sound like them.
Giving away more than she sold, she couldn't shut up,
having a lot to say in any booth where a soapbox was lent.
A real live heretic she struck the root of many trees,
challenging churches that teach things which Jesus didn't say.
Paul's complex doctrines of the Fall of Man, she said, weren't spoken by the Prince of Peace,
or all the guilt trips and the power trips that have messed up the world.
In what the Bible said Jesus had taught, she said, there were no holy guys to worship and obey,
no complex visions telling us we shouldn't try to heal the Earth.
There weren't untouchables or excommunicates, just common sense,
which all good mothers try to teach to every child.
She said people were good and they could change the world with the Golden Rule,
and that the country could be fixed with the Bill of Rights.
Heaven right here and now within us all is what she said Jesus had preached,
not all that complicated stuff He never said.
Brotherly love is what she saw among the vendors and the customers,
the kind that can heal worlds and fix the laws.
She said that they were all shining with light and that was why
she couldn't tell them apart, because all of them looked like God.
They took her poetry and hung it on the fridge,
used it to show family and friends why they liked swap meets so much.
The things she wrote about the crazy and sad ways we live cut to the bone
about what they already knew but didn't know how to say.
What she told them the Prince of Peace had said were things they'd never heard
in all that preaching of apocalypse and hell and how bad we all are.
Her speech shifted from eloquence to the coarse language that most people use.
She said that God cared more what people said than how they spoke.
She was like other mothers who'd sold food from baskets through all time,
shaping sweet cakes in the poorest hovel to make ends meet.
Yet just this simple, ancient act put her at odds with powerful Liability Gods.
Her baked goods and her poetry were not allowed by insurers, and that's not all.
When Peace Drums performed on the stadium steps she had even been seen to dance,
beating a large, flat drum marked with a peace sign a foot wide.
Vendors joined in from distant booths, hitting the metal poles,
making a heartbeat sound, a song of liberty that shook the air.
At the swap meet, in the golden sunlight, she soaked up people's light and reflected it back.
She drank in strength and wisdom from each face,
which actually appeared to shine, transfigured in the natural light.
Moving through crowds she saw in everyone a holy light.
That's when she knew their righteousness was not as filthy rags, like the apostle Paul had taught,
and they were not condemned by Adam's sin.
Often she didn't sell all the cookies, moving too slow for real commerce to succeed,
having such a good time she didn't care.
What the vendors gave her was so much more than crumpled bills stuffed in her pouch.
Seeing their smiles she felt that she encountered the Divine.
The people seemed to her to glow as the sun set,
catching the fine hair on their skin with an ethereal light.
The vendors looked like angels taking down their booths and skillfully loading their trucks,
giving each other hugs and good wishes til the next show.
They asked each other about their day, fibbed to each other about how young they looked.
No matter how tired they were some said they felt strangely refreshed.
Lifting up boxes and old furniture they seemed to her like Atlas lifting up the world,
exchanging smiles that could light up the parking lot if it weren't day.